MEETINGS & EVENTS
---

BC and CSG meetings for ICANN 77
ICANN77 Policy Forum will be held in Washington D.C., United States at the Marriott Marquis Washington D.C., 12-15 June 2023.
This will be a hybrid meeting with both in-person and virtual participation.
All sessions will be conducted during regular working hours in Washington D.C., United States (Eastern Daylight Time / UTC-4).
Prep Week will be conducted 30 May - 1 June 2023. The Prep Week schedule is published on 15 May 2023.
The comprehensive schedule is published 22 May 2023.

Official Language

 

English

Average Weather in June

: 

85°F / 54°F (29°C / 12°C)

---
The Business Constituency of ICANN invites nominations from the business community to its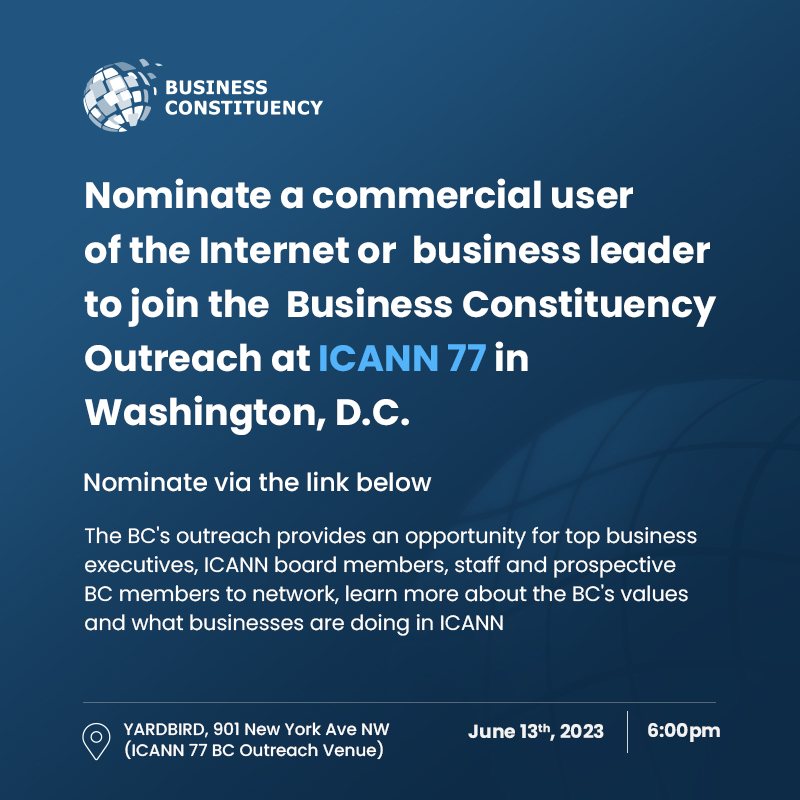 planned Outreach event on Tuesday 13th June from 6:00pm (DC local time) at 901 New York Ave NW, Washington, District of Columbia, 20001.
Interested parties can nominate more than one person using this link. The Business Constituency is the voice of commercial Internet users within ICANN a global body with responsibility for certain policies that relate to the domain name system (DNS). Representatives of company's using the Internet for commercial gain should be interested in joining this outreach event to know more about the BC.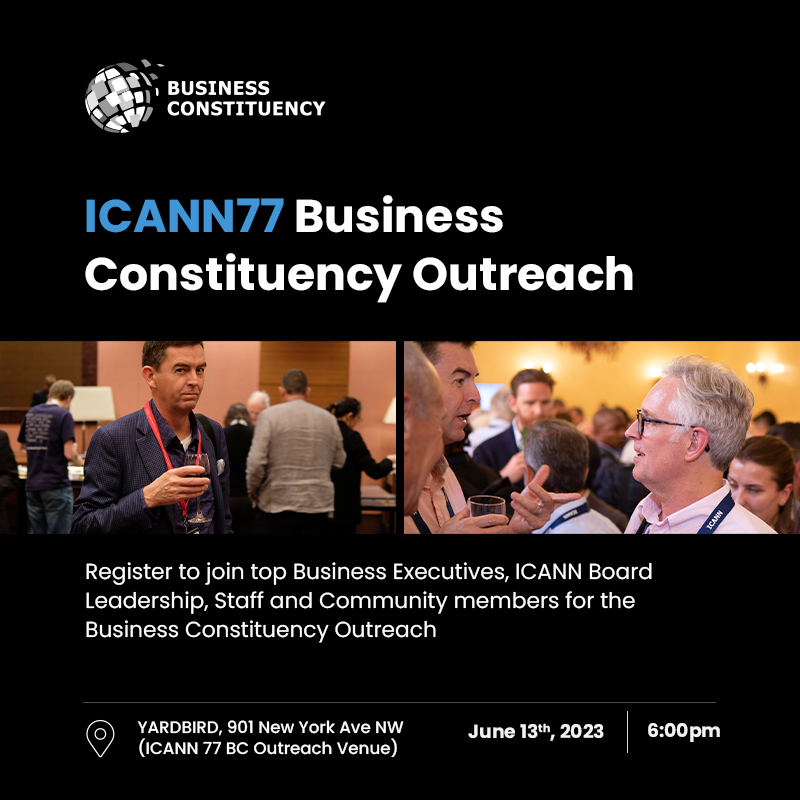 The BC invites commercial users of the Internet to her outreach event. This event is designed to welcome existing and new business sector attendees, introduce them to key community leaders, provide networking opportunities & share reactions to ICANN meeting sessions. To go ahead to REGISTER! and reserve a seat for yourself at this outreach event by following this link. Valet parking is available during dinner service. Event is FREE but registration is required.
 Questions? Contact the BC Secretariat at [email protected]
---
More About the BC!
Members of the Business Constituency use the Internet to conduct BUSINESS.
Business users rely on a stable and secure Internet and e-commerce experience, one that serves their users and customers on a global basis. Through your participation in ICANN, and in the Business Constituency, your company will make a difference on behalf of business.
During ICANN62 in Panama, Claudia Selli and Steve DelBianco sat down with ICANN org to discuss the priorities of the BC within ICANN. Please watch the interview below.
The Benefits of Membership
BC members contribute as:
participants on the BC internal e-mail list to learn about and debate policy topics.
participants on telephone conferences to reach consensus on key issues.
participants at physical meetings coincident with ICANN public meetings.
issue managers on specific topics.
bridges for information flow between other GNSO constituencies.
The BC's Mandate
The mission of the BC is to ensure that:
the Constituency fully represents the views of the Internet business user community.
ICANN policy positions are consistent with the development of business via an Internet that is stable, secure and reliable while promoting consumer confidence.
ICANN policy positions derive from broad stakeholder participation in a common forum for suppliers and users.